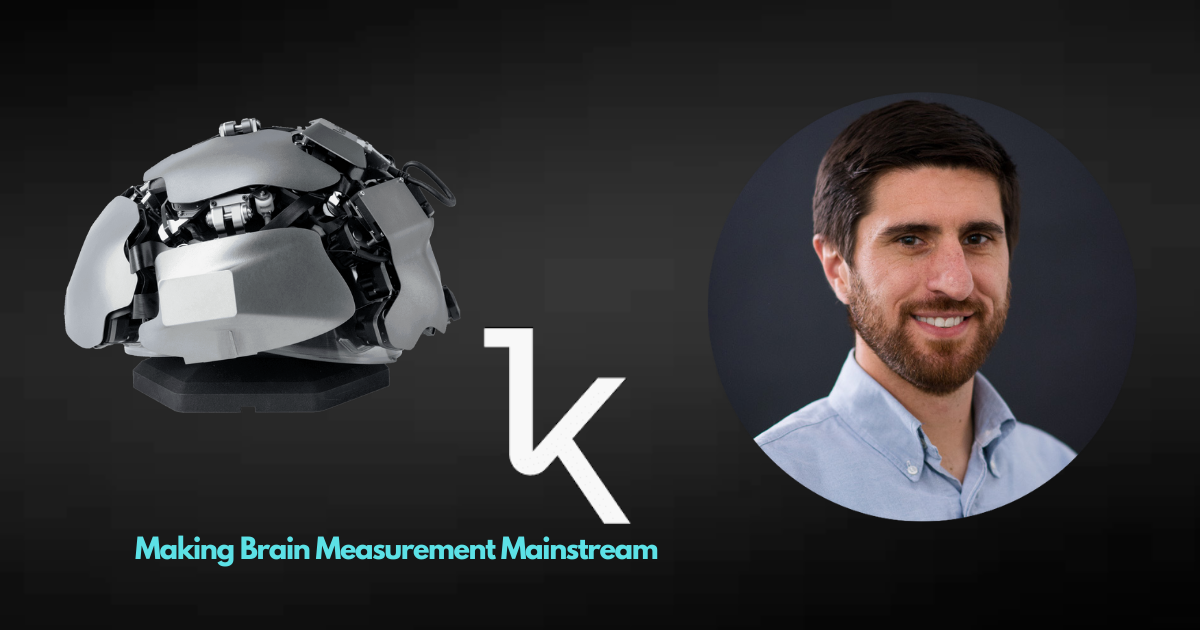 Making brain measurements mainstream: Interview with CTO of Kernel | Ryan Field
The company leading the charge in non-invasive BCIs is Kernel. Developing at a remarkable pace, Kernel has reached incredible heights in terms of funding and technology. We interviewed Ryan Field, CTO of Kernel, about his thoughts on the development, current state, and future of non-invasive BCIs.
Making Brain Measurements Mainstream with Non-Invasive BCIs
As covered in a previous article, Kernel was founded in 2016 by Bryan Johnson, who previously founded a fintech company called Braintree, which acquired Venmo and was then sold to PayPal for $800 million. Bryan has personally invested $54 million in Kernel. In 2020, the company raised its Series C, surpassing $100 million in total capital raised.

Image: Kernel logo
Kernel, which now develops non-invasive BCIs at its core, used to explore invasive techniques; a huge pivot in terms of its core technology.
Its initial mission was to develop technology to both read and write to the brain, exploring invasive techniques involving implants and surgeries. However, after a few years of exploratory work with invasive techniques, Kernel revisited the larger mission of making brain measurements mainstream for everyone to learn and use information about their brain to better their lives. The company then pivoted to non-invasive techniques.
This pivot had several key advantages for Kernel. The first being reduced regulatory approvals; invasive techniques must be approved by the FDA involving long clinical trials. Non-invasive techniques would eliminate these hurdles, allowing Kernel to iterate faster on their technology. The other key advantage was that non-invasive techniques allowed Kernel to develop less localized recordings of the brain compared to invasive techniques that often require localized implants.
Non-invasive techniques gave us the opportunity to look at the whole brain. Most implanted devices are highly localized and typically focused on restoring brain functions like movement or speech.

By not limiting us to implants in a localized region, we're able to get a more complete picture of the brain which we think will lead to more applications and broader market use of neurotechnology.
The Crux of Non-Invasive BCIs, The Kernel Flow
Kernel built Flow, which is a multimodal BCI headset, but mainly houses technology called TD-fNIRS (Time Domain Functional Near-Infrared Spectroscopy), the gold standard of optical measurement. fNIRS uses near-infrared light to record brain activity by measuring changes in the amount of oxygenation in the blood associated with neural activity in the brain. TD-based devices traditionally present impracticalities through its immobile and large form factor. In turn, these devices have the highest depth sensitivity and are capable of presenting highly accurate values of hemoglobin concentration and oxygenation.
Image: Flow
Kernel is currently accepting participants for studies using its Flow headset in Los Angeles by signing up through the Kernel app (download here). NeurotechJP was able to participate and experience it firsthand. The demo can be viewed on YouTube from the link below.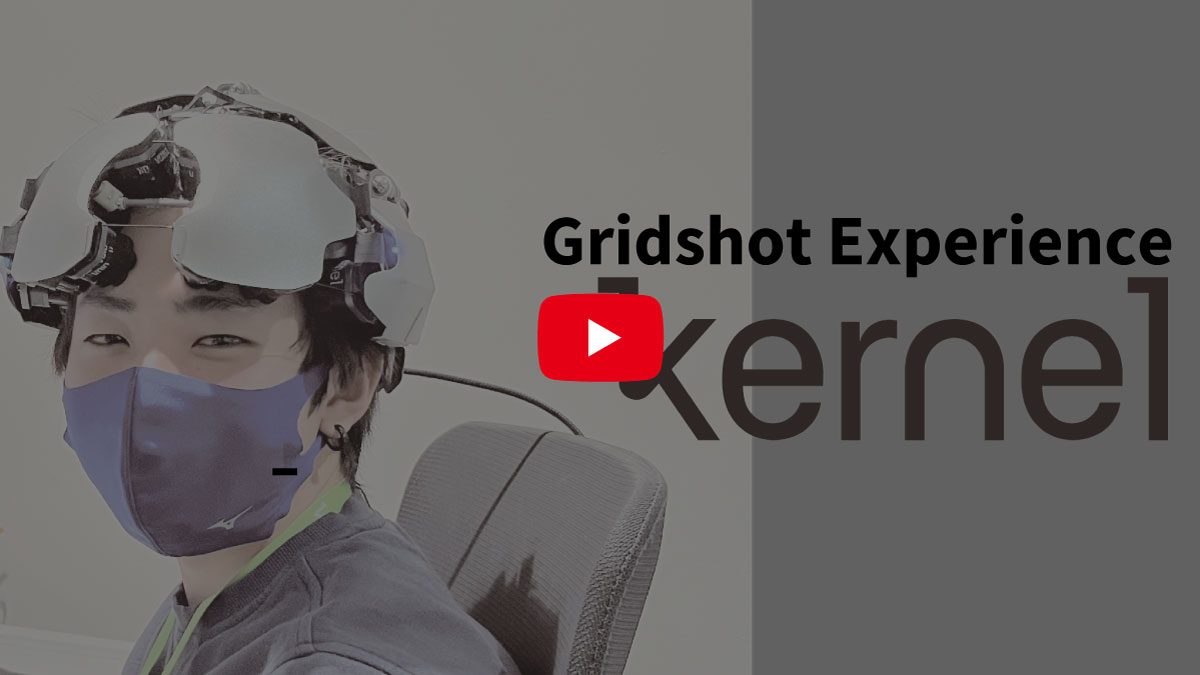 Video: Flow demo experience
Besides Flow, Kernel initially was developing another headset named Flux, which used Optically-Pumped Magnetoencephalography, which detects the magnetics fields generated by the brain. The company is now fully focused on Flow, discontinuing development of Flux as it presented challenges in ubiquity.
When Kernel switched from invasive to non-invasive techniques about four and a half years ago, the company looked at every technology that was out there: EEG, MEG, optical based, ultrasound. We ultimately settled on two candidates; one was the MEG system, which we called Kernel Flux, and one was the time domain fNIRS system called Kernel Flow.
Many other startups developing non-invasive devices use EEG, but Kernel chose to tackle a difficult problem of getting robust time-domain recordings of fNIRS. Ryan says that fNIRS has been around for decades, but time-domain never developed into a widespread device even in research since the hardware is very challenging to get right. And Kernel faced this exact issue as they developed Flow.
One of the most difficult things we had to overcome in developing Kernel Flow was that we couldn't use any available hardware. We had to build our own custom integrated circuits and custom chips in order to enable time domain technology to scale.
Despite these challenges, Kernel successfully released Flow this past year. The device today can be connected to via a single USB-C cable with all of the electronics integrated into the headset.
Considering the difficulty of getting an integrated time-domain system, we asked why the team at Kernel was able to achieve what research labs have yet to fully develop.
I think Kernel's strength is the approach. We were one of the first groups to approach the problem by looking at the full stack.
As mentioned above, Kernel had to develop new chips from the ground-up; something that seemed to be a daunting engineering task, may have been their biggest strength. By looking at everything from the lasers and photons from the brain to the machine learning and AI algorithms, the team designed every part of the technology with the full-stack in mind. This allowed them to tune each component, both hardware and software, to work in perfect synchrony.
A lot of existing fNIRS companies that spun out of university labs typically have a specialty like hardware development. And they collaborate with other labs and companies to do experimental work or software, things they don't specialize in.

We brought all that expertise in-house which allows us to iterate really quickly on our technology.
Now, with newfound insights they are beginning to iterate on their technology with R&D underway for the next generation Flow.
I think time-domain fNIRS is one of the best technologies for non-invasively measuring the brain with precision. For the technology that has enabled us to do that, there is still a lot of room for improvement on our existing Kernel Flow.
Kernel's Vision - The Path Towards its 2033 Goal
Kernel ambitiously envisions a world in which brain measurements are commonplace and Flow is a household staple; and their goal is to realize this by 2033. Considering that Flow is currently only available to research institutes, what is their plan to start business with general consumers?
Ryan estimates that the earliest consumer-oriented products could be ready around 2024. Referring to the adoption of smartphones, he believes these early consumer devices will be the "early adopters" version, analogous to the Palm Pilot. These versions will not be the ubiquitous devices that Kernel is envisioning, rather the first of many iterations of consumer-facing BCIs.
The brain is one of the most complex organs to understand in the human body, and Kernel recognizes that creating a robust device for consumers is far from trivial in terms of the science and technology. The biggest challenge is in creating a device that is able to capture reliable signals from the brain.
To make brain measurements mainstream, you need a solid scientific and technological foundation. The device needs to read signals that can be measured reliably every time. It can't work 75% of the time.
Flow is capable of high quality measurements of brain activity, but the device does not have the ability to stimulate (or "write") to the brain which was part of the initial exploration with invasive techniques. Kernel sees stimulations as simply one method of brain intervention, but recognizes that the current challenge lies in measuring and quantifying the brain.
Ryan says that stimulations are simply a modality to modify the brain — an intervention. These can range from direct stimulation with TMS, to chemical interventions with drugs, and even learning which takes more time. But the challenge now is not in exploring new interventions of the brain, but in understanding how current interventions affect the brain.
Kernel can become an interventions company at some point in the future. But we really believe that the most important thing to do now is to characterize interventions based on brain measurements.
Collaborations in Research Lead to New Applications
Kernel previously hosted a program dubbed Flow 50 where fifty research institutes and companies could try out a Flow headset. Out of a hundred applications, Ryan and his team chose each project carefully with the hope that the program would contribute to neuroscience research but also further the applications of Flow and brain measurement devices.
We chose projects that have the potential to make meaningful contributions to society and the future of neuro-measurement.
Given the short application window of around two months for Flow 50, a hundred applications seems to reflect the high amount of interest and attention that Kernel Flow is getting from many research groups. Although the Flow 50 program is over, Kernel is moving swiftly to make the device available to more people.
In addition to collaborating with research institutes through Flow 50, Kernel has also announced partnerships with two companies. One with Cybin, a company that focuses on the treatment of mental health with psychedelic molecules. The other with Statespace, the publisher of Aim Lab, which aims to optimize performance in eSports and video games.
Image: Cybin × Kernel
Kernel is interested in partnerships with companies and institutions that provide brain interventions. Providing precision measurements, partners can learn more about how their product might be affecting the brain through Kernel's BCIs. Additionally, Ryan mentions mental health and gaming being specific applications that will benefit from Kernel's brain measurement technology.
We are interested in all application areas as long as it is a robust application of brain measurement.
Kernel's main focus thus far has been in product development, refining the technology behind Flow. Now, they aim to further expand the application of Flow through collaborations and partnerships with research institutes and companies.
Conclusions
We would like to extend our thanks to Ryan Field for his insights into Kernel's history and their big plans to revolutionize the field of neurotech.
Utilizing non-invasive TD-fNIRS technology, Kernel envisions a world where BCIs will be as ubiquitous as the smartphone by 2033; a world in which everyone can improve their lives by understanding their own brains. With new insights from Ryan, it is no doubt that Kernel has plans moving forward so keep an eye out for exciting news!